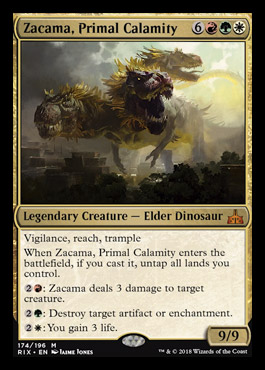 Zacama, Primal Calamity
Legendary Creature - Elder Dinosaur
Mythic Rare
Vigilance, reach, trample
When Zacama, Primal Calamity enters the battlefield, if you cast it, untap all lands you control.
: Zacama deals 3 damage to target creature.
: Destroy target artifact or enchantment.
: You gain 3 life.
9/9
***********
Source: Command Zone podcast
It's a Cerberex!
Sweet! Another alternate commander for my
Gishath
deck!